Carousel Fiesta Inn Ecatepec
ComPosadasCalificacionTripadvisor
Qualified:
ComPosadasTripadvisorModal
x
Location #87 of 456 hotels in Mexico City
GreenLeader Platinum
Summary of qualifications
Best comments
"Nice Place"
Very friendly staff, clean rooms, Good location. It's right beside a large mall, with restaurants and good stores. There is not a lot else to do in this location, so it depends on the type of trip you want to do.
"Great hotel"
We would definitely stay here again. The staff was really nice well secured it was really clean and accessible. The location was great cause we were next to a mall that we enjoyed to visit. It was also close to the airport.
"Good Service"
I was very satisfied with Fiesta Inn Ecatepec. I think I did a good election when I decided to use your services. I willl come back soon. The only problem the terrible smell outside.I hope the goverrnment and businesses will find a solution for this problem.
"Aging"
The hotel is located in a shopping mall parking lot, there are plenty of choice of restaurants and places to eat in the mall, however, is an aging property. Has a large TV in the room (50") but slow internet and bad cable signal, bring a CDMI cable and make it a second screen.
"Great place with excellent breakfast"
I have very positive experience with this hotel. My room was very clean, bed big and comfortable. Two pillows of different hardness - very useful. Breakfast was just excellent - starting from freshly preapred eggs, via choice of hot foods, ending up with dairies, fruits and sweets. Also neighbourhood is good - the hotle is placed in shopping mall, with Sears, Walmart and few restaurants. Some 40 min driving from the hotel there are ancient pyramids. The only drawback I experienced, is noisy railway line outside of the window. It is not very busy, but was waking me up around 5 am. Still, the experience is very positive.
Top-rated Attractions Nearby
Photos hotel and surroundings (56)
Tripadvisor_Fiesta_Inn_Ecatepec
Due to the constructions in the surroundings of the Plaza Las Américas Shopping Center it is suggested to access through the entrance located in the lateral lanes of Av. Central.Strategically located in one of the most important commercial and industrial areas in the Valley of Mexico.Enjoy its high-speed wireless internet facilities, Business Center, meeting rooms, event rooms, restaurant, bar, gym, pool, garden and services with everything you need to make your business trip a success.Fiesta Inn Ecatepec is an Eco-friendly hotel, so it is a 100% smoke free hotel.ABC Medical Center, our protocols ally. A leader in medical best practices for more than 130 years, ABC Medical Center, dedicated to caring for their patients' health, has assisted POSADAS in the development of prevention, hygiene, and disinfection protocols that allow the group to guarantee the safety of their staff and guests.We remind you that the check-in time is from 3:00 PM. Check-out is at 12:00 PM. We suggest you use our express check-out service.
Services
The hotel has 143 rooms, a restaurant, a lobby bar open from 3:00 p.m. to 11:00 p.m. and fitness center. Hotel services include:
Guide Dog
Gym
Smoke Free Hotel
Free Outdoor Parking
Shuttle Service Extra Cost
Room Service
Indoor Pool
Digital Check-in
My Stay
My Cast
Meeting Rooms
The hotel has a Business Center with computers with high speed wireless Internet, 2 private rooms with a screen, air conditioning and capacity for 6 people. It also features 3 event rooms with capacity for 60 people each one, that can be adapted to host up to 250 people in an auditorium; each room has a board, electric screen without cost, flip charts, coffee service, lunch and dinner for groups, candy bar and personalized service that can be adapted to your event. Our professional team will help with your groups and conventions.
Rooms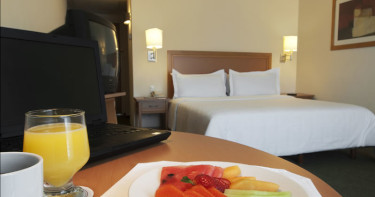 Accessible Room
The room is 30 m2 and is equipped to meet the needs of handicapped guests: 2 beds, 50" TV, desk, telephone, a bathroom equipped with a 1 meter high handrail, tub, shower and toilet with special safety bars.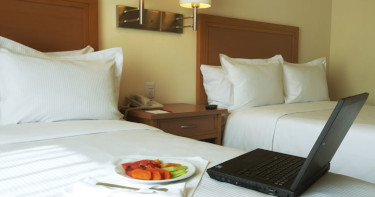 Superior Room, 2 double
Equipped with 2 double beds, 50" TV, spacious work desk, telephone, bathroom with tub, shower and toilet. With a view of the city.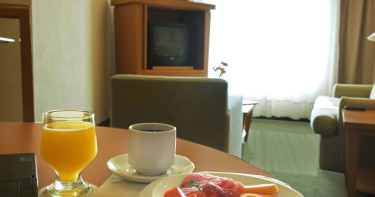 Junior Suite
The room includes 2 areas: a dining area for 4 people, kitchenette with microwave, coffee maker and a small refrigerator; living room with 2 sofas that each seat 3, 2 side tables, telephone, 50" TV, bathroom with tub, shower and toilet, scale and luxury toiletries.