Carousel_Fiesta_Inn_Villahermosa_Cencali
AdressPosadas
Fiesta Inn Villahermosa Cencali
ComPosadasCalificacionTripadvisor
Qualified:
ComPosadasTripadvisorModal
x
Fiesta Inn Villahermosa Cencali
Location #9 of 45 hotels in Villahermosa
Travelers Choice 2021
Summary of qualifications
Best comments
"Overpriced "
I started one night here because it wasn't to my standards of fiesta hotels The rooms and property are very old and dated The tv had not even 1 English Channel. Even in US we are polite and have Spanish channels No alcohol ;-(. Very noisy because the laundry goes up all the common areas by hand I have to say the staff at the front are very very very nice! They made my stay better But, the price is outrageous for this hotel!
"Okay-ish hotel"
I stayed 15 nights in the Fiesta Inn, as I was delivering two one week courses in it. 15 days was more than enough, really, as there is very little to do, outside 'office hours'. Service by the way is good, staff is friendly and service focussed. Restaurant serves very simple food and doesn't allow you to add tips to the bill. So you need some cash every night and morning. Rooms are simple but adequate. A bit damp however. And don't forget your mosquito repellent. Is a must. Excellent WiFi. But then this horrendous background noise (in my first room and in large part of the galleries.....). It drove me crazy. I suppose it comes out of the air conditioning machineroom. They were very relaxed on the room swap (I guess I was not the first one that complained). Outside pool looks ok and well maintained, but is located straight in front of the restaurant, therefore hardly used in my opinion. A simple terrace in front of the city lagoon, which by the way is full of crocodiles. All in all, okay hotel if you're here for a couple of days only. if you visit for a longer period, spend your money elsewhere....
"Avoid at all costs"
This hotel is dirty, old, dated, noisy... it doesn't have a functioning pool, the beds are really uncomfortable. The restaurant is terrible. But worst of all the rooms are unbelievable old, with humidity, fungus, the floors are coming out, noisy as can be... a disaster
"Excellent service"
Fiesta Inn is nice, confortable and have an excellent service, I like so very much this location in Villahermosa, Tabasco, I sugget to all business travelers and small families or short staying, Congratulations!
"Terrible"
the hotel over all is run down, food in the hotel has no taste and half of the time they get your order wrong. Reception staff are excellent but apart from that i have nothing nice to say about this hotel.
Top-rated Attractions Nearby
Photos hotel and surroundings (149)
Tripadvisor_Fiesta_Inn_Villahermosa_Cencali
ComPosadasDesWeb
Fiesta Inn Villahermosa offers guests everything they need for a successful stay, with modern and functional facilities, personalized customer service, and a warm, low-key atmosphere.The hotel has been a symbol of Villahermosa for more than 30 years and is strategically located in the city's most important hotel and business district, just 20 minutes from the airport and five minutes from downtown. It offers easy access to Galerías Tabasco shopping center, the Pirámide PEMEX building, Torre Empresarial, Convention Center, Tabasco Park, and Tomás Garrido Park.The hotel offers 159 comfortable guest rooms, plus a restaurant, high-speed Internet access, swimming pool, four meeting rooms, and 24-hour room service. On display in the hotel lobby is an intriguing Mayan mural called ''The Creation of the Universe.'' The hotel's green spaces are home to flora and fauna typical of the state of Tabasco, and visitors can find cacao plants and small man-made lagoons that are home to a variety of species of turtles. The spacious rooms provide a gorgeous view of the nearby Laguna de las Ilusiones.We know how business works and we are ready to provide you with a uniquely welcoming and productive stay.ABC Medical Center, our protocols ally. A leader in medical best practices for more than 130 years, ABC Medical Center, dedicated to caring for their patients' health, has assisted POSADAS in the development of prevention, hygiene, and disinfection protocols that allow the group to guarantee the safety of their staff and guests.Please note that check-in begins at 3 pm, subject to availability. Check-out is at 12 pm. Express check-out is recommended.
Facilities
Services
The hotel has 159 rooms, restaurant, bar, a range of spacious and comfortable multi-use rooms for private work sessions, meetings and other group events. Other facilities fitness center.
Guide Dog
Gym
Smoke Free Hotel
Free Indoor parking
Room Service
Outdoor Pool
Digital Check-in
My Stay
My Cast
Event and meeting rooms
With our comfortable and modern meeting rooms and expert service, we offer the perfect venue for a business meeting away from the office. Our four rooms, each with its own theme and name (Lago, Tucán, Sol, and Montuy), come fully equipped with projector screens, audio, high-speed Internet and everything else you need to work productively and efficiently.
La Isla
Fiesta Inn Villahermosa offers guests a convenient and delicious dining option with the La Fiesta restaurant, open from 6am to 11pm, which serves buffet-style breakfast and offers a varied lunch and dinner menu that includes regional dishes. Guests can enjoy a meal or a drink as they look out onto the Laguna de las Ilusiones and the hotel pool. The Tábanos bar, well known throughout the entire state, beckons guests to cool off with their favorite drink while catching up with friends or meeting new people in a laid-back environment.
HabitacionesMinisite
Rooms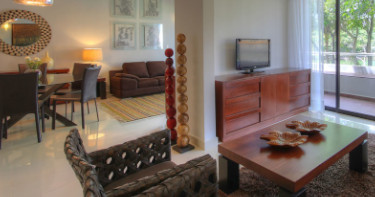 Presidential Suite
A special suite makes for a special experience. The warmth and comfort of this room are perfect for guests looking to work, rest or relax comfortably in a spacious suite. It is the only room type that features two stories and includes a living room, dining room, kitchen, air conditioning, two bathrooms, 50'' cable TV and whirlpool bathtub.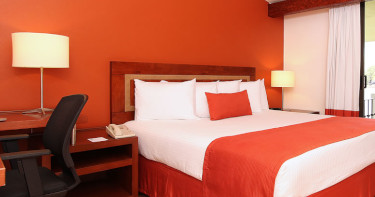 Accessible Room
Special needs guests will find the comfort and functionality they need in this room, which is wheelchair-accessible and designed for maximum ease of use. Extra features include safety rails in the shower and bathroom, in addition to the amenities found in all other guest rooms, such as a security safe, air conditioning, coffeemaker, cable TV, and high-speed Internet. It also offers a magnificent view of the Laguna de las Ilusiones.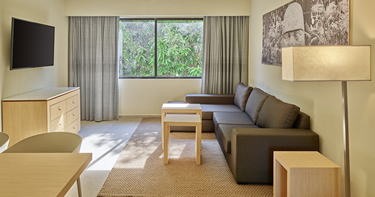 Master Suite 1 King
A warm, inviting retreat from the outside world awaits guests in this modern, comfortable room. The suite features a security safe, air conditioning, coffeemaker, cable TV and high-speed Internet. The magnificent view of the Laguna de las Ilusiones makes this a unique place to stay while traveling.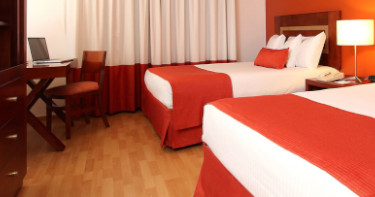 Superior Room 2 Double
This room offers a break from the stress of the outside world, where the contemporary decorations and warm colors create the perfect atmosphere for a relaxing and productive stay. The room has 2 double beds, a security safe, air conditioning, cable TV, and high-speed Internet. The view of the Lago de las Ilusiones, a spectacular example of Mexico's natural beauty, or the hotel's courtyard area is sure to brighten any traveler's stay.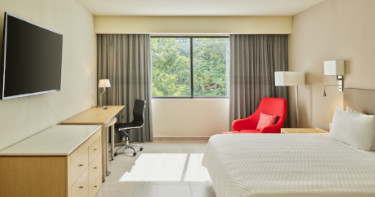 Executive Room, 1 King
We remodeled 15 Executive King rooms to provide you with a comfortable space to work and rest without any interruptions. Designed for peaceful and productive stays, the spacious room has a king-size bed perfect for drifting into a deep sleep. Other features include a 50'' smart screen with cable TV, high-speed Wi-Fi, an armchair that's ideal for relaxing or reading, a closet, bathroom with shower, hairdryer, bathroom amenities, coffee maker, luggage cart, and safe. You'll enjoy an authentic Business Class Experience along with a spectacular view of the Lagoon of Illusions.
Executive Room, 2 Double
The 31 Executive Double rooms that we recently remodeled are designed for perfect work and rest balance. Ideal for couple or family stays, these rooms have two double beds, 50'' Smart screens with cable TV, high-speed Wi-Fi, a closet, bathroom with shower, hairdryer, bathroom amenities, coffee maker, luggage cart, and safe. The Executive Double rooms offer the comfort you deserve and feature incredible views of the Lagoon of Illusions. Leave stress behind and allow yourself to enjoy a work stay from start to finish.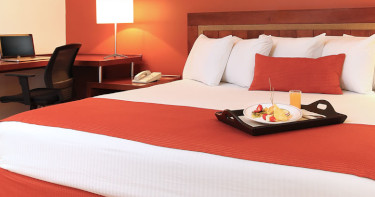 Junior Suite 1 King
This suite is designed to ensure a comfortable and productive stay by combining a spacious layout with warm color schemes to create a relaxing atmosphere. It includes a security safe, air conditioning, coffeemaker, cable TV, and high-speed Internet.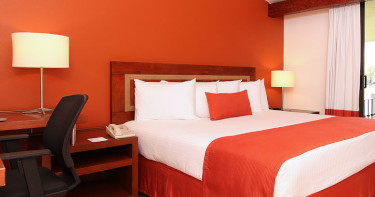 Superior Room 1 King
Whether traveling for work or pleasure, guests will find a home-away-from-home in this spacious room decorated with contemporary, warm themes. The room comes equipped with a security safe, air conditioning, coffeemaker, cable TV, and high-speed Internet. It also features a gorgeous view of the Lago de las Ilusiones or the hotel's courtyard.