Fiesta Inn Querétaro
(Hotel & Loft)
Discover the modern and spacious Fiesta Inn Querétaro, where we've taken care of everything for you, so the only thing you have to worry about is being productive.
This business-class hotel offers 225 comfortable rooms, including 50 lofts designed to satisfy the needs of extended-stay business travelers who want the comforts of home. The Fiesta Inn Querétaro is located near the historic center and just 10 minutes from the city's main industrial areas
Today's Fiesta Inn is more than simply a hotel; it is a community of professionals who thrive on success.
The hotel has a privileged location close to the historic downtown district and just 10 minutes from the city's main industrial areas.
Please note that check-in begins at 3pm. Check-out must be completed by 1pm. Express check-out is recommended.
Services
There are 225 guest rooms, restaurant, bar and a range of spacious and comfortable multi-use rooms for private work sessions, meetings and other group events. Other facilities include Lounge 360°, outdoor pool and fitness center.
Shuttle service with cost
Handicapped access
Gym
Restaurant(s)
100% smoke free hotel
Guests access with guide dogs
Pets are not allowed
Indoor parking
Free Wi-Fi access
Business center
Laundry service
Fiesta Kids club
Bar(s)
24 hours room service
Outdoor pool
Restaurant

La Isla
The Fiesta Inn Querétaro offers the La Isla multi-purpose space that gives you the freedom to recharge 24 hours a day. Guests can grab a delicious snack or pause to refresh and rejuvenate. Meals are available throughout the day in the manner best suited for the occasion, including a breakfast buffet, grab-and-go, a la carte lunch and dinner, and room service. The area has minimalist design, with bright colors, fresh décor, ambient music, making each visit as pleasant as possible.
Meeting Rooms

Event and meeting rooms
Guests can take advantage of B-on, Fiesta Inn¿s modern business workspace, outfitted with four computer workstations and business services. From here, you can keep in touch with the rest of the world, hold meetings in private boardrooms, participate in video conferences, and share documents and presentations online in real time at the center's two meeting rooms with space for up to eight people.
There are also special event facilities located in front of the hotel with a private entrance. There are four rooms that can be combined to accommodate up to 500 people with auditorium seating.
Qualified:
x
Location #28 of 93 hotels in Queretaro City
GreenLeader Silver
Summary of qualifications
Best comments
"Mediocre hotel"
This hotel is very basic business class. Rooms hace plenty of space, beds are ok, but the pillows are bedrocks! Terrible! If you are unlucky enough to get a room for n the ground floor, make sure to close the courtains properly since the swimming pool is right outside. The restaurant is the worst experience in the hotel. Prices are competitive but the cooking is lacking. Tasteless, served mostly cold, better to try other of the options the city offers. Breakfast is included, but don't expect anything fancy. Again breakfast buffet is second class, cold, and tasteless.
"Enjoyable long term stay"
I stayed at the hotel from July 2017 to February 2018 on business and would like say special thank you to the following staff who helped make my stay very enjoyable:- Adriana, Lorena Baltaza Prado, Valery Villalobos, Fernanda Manduiano, Itzel Espinosa, Schiela Rodriguez from the reception desk. Paulina, Orlando,Enrique,Amardo,Mary (Carmen) from the restaurant and special mention to the lady at cooking station. Also to all the room maids, cleaning staff, room service and Jose the bell boy. Everybody couldn't have been more helpful and carried out their duties professionally, politely and most of all with a smile on their faces. I stayed in both the main hotel and loft rooms during the duration and generally was quiet during the night. I found the beds to be comfortable and never really had any issues with the rooms. Gym in need of updating. Look there were some negatives but far to few to mention, and were far outweighed by the positives. Beware though and be careful if you are looking to stay towards end November. There is some sort of college games event taking place in Queretaro during this week and the hotel was very noisy. I realise live and let live for these young guys and girls, but when you have to get up for work at 5.00am it can be a bit of a wrench. Thanks again Fiesta Inn, I will remember my stay here with fond memories. Derek Barnes 15th February 2018
"Business trip"
Nice place close to centro, shopping centers and restaurants Breakfast is good, nice pool and pool area small gym. Food is expensive with an average taste. You can walk to centro, shopping center and close to the highway.
"Cleanliness is an issue. "
We stayed for two nights. The Hotel seems to be modern but there are many issues. One, and most important: cleanliness; it was evident that only very superficial cleaning is performed; Towels are worn out; the tables in the restaurant are disgustingly dirty, it's clear that there is no supervision at all. Service is just okay. Room service prices are deceitful. There is no ice machine where there is one meant to be.
"Not Bad, but with some things important to improve"
The hotel is not bad. It is comfortable with a very good sleep quality, however, they must improve significantly its cleanliness. For example, the floor in the restaurant is terribly dirty. The restroom at the pool is dirtier than a public one. The floor of the corridors and rooms are not clean. The pool is heated but the water is not even warm and the water is not clean neither. I hired a group of 8 rooms for an event of my business, they offered a 10% in beverages and meals that they "forgot" to apply So this is not a bad hotel overall, but it could not be my first option.
Top-rated Attractions Nearby
Photos hotel and surroundings (189)
Rooms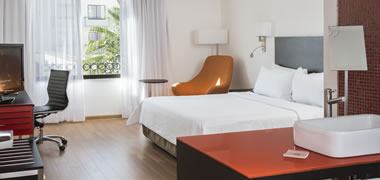 Superior Room, 1 king
Discover the perfect place to work and relax in this comfortable room, outfitted with a king bed, closet, bathroom, air conditioning, coffeemaker, executive work desk, two telephones, wireless high-speed Internet, hairdryer, luggage rack, closet, bathroom amenities, and cable TV with LCD screen. Each room has a view of the pool or hotel terrace.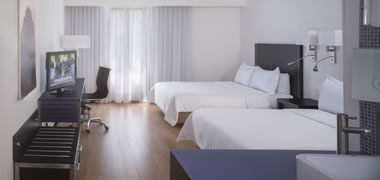 Superior Room, 2 double
After a long day full of activities, find comfort in this relaxing room equipped with two double beds, closet, bathroom with shower, air conditioning, coffeemaker, executive work desk, two telephones, wireless high-speed Internet, hairdryer, luggage rack, closet, bathroom amenities, and cable TV with LCD screen.
Junior Suite King
After a long day, you deserve this spacious room to work and relax. Each suite is outfitted with a king bed, sofa, closet, bathroom, air conditioning, coffeemaker, executive work desk, two telephones, wireless high-speed Internet, hairdryer, luggage rack, closet, special bathroom amenities, and cable TV with LCD screen.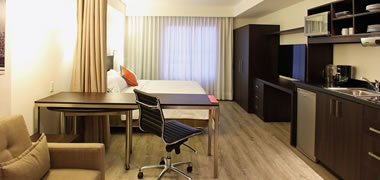 Loft
These larger guest suites are ideal for guests planning on staying for an extended period of time or hosting guests. Each suite has air conditioning, grill, kitchenette, mini-fridge, microwave oven, dining area, sitting room with satellite TV, work desk, executive chair, high-speed Internet access and telephone. Buffet Breakfast Included for 2 people.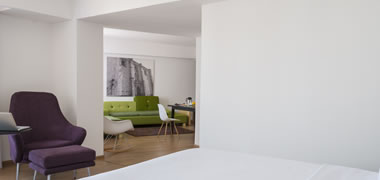 Master Suite, 1 King
These spacious and modern suites are the perfect home base for a successful trip. Each suite features a king bed, work desk, closet, telephone, coffeemaker, wireless Internet, full bathroom, ironing kit, hairdryer, air conditioning, LCD cable TV, and personal amenities. Each of these rooms also has a fridge and microwave, sitting room, dining room and views of the pool or hotel patio.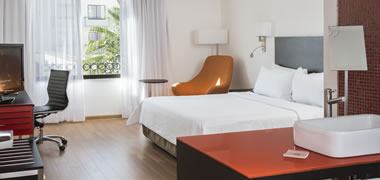 Accessible Room
Experience a comfortable stay in this specially equipped room with a two single beds, closet, bathroom, air conditioning, coffeemaker, executive work desk, two telephones, hairdryer wireless high-speed Internet, and cable TV with an LCD screen. In addition, you will find all standard facilities for people with special needs. The bathroom is outfitted with safety rails, shower bars, elevated toilet with grab bars, and a wide entry door.